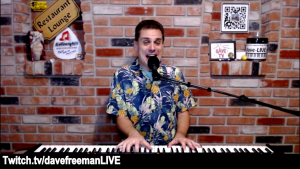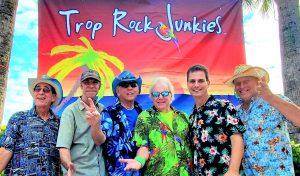 dave-LIVE – Beach Bar Piano Music…
...an entertaining live music experience!
dave-LIVE - Beach Bar Piano Music is a combination of
Trop Rock, Yacht Rock, and classic rock and country favorites.
A refreshing alternative to solo acts that seem to play the
same songs, dave-LIVE plays ALL those songs, your
favorite keyboard-oriented tunes from the 50s through
today. Whether the crowd is dancing, listening, or
singing along: everyone is involved in the show.
<----- jamming live at the Leather Corner Post Hotel...
          located (where else?) in Leather Corner Post, PA!


...live music on demand!
If you can't make it out and about, come join the fun at
the "virtual" piano bar. Streaming exclusively as a Twitch Affiliate - you can also access
recent shows saved in the video library by clicking HERE.
<----- jamming live on Twitch.tv



...The Trop Rock Junkies
Entertaining for over a decade with their unique brand of
Trop Rock originals and classic favorites, dave joined the
band in 2021. The Trop Rock Junkies have been nominated
by the Trop Rock Music Association as "Band of the Year"
five times (and still counting), and perform all over Florida  
<------ dave performing with The Trop Rock Junkies
           at the Nav-A-Gator Bar & Grill in Arcadia, FL
a little background…
dave was born in New Jersey and raised in the Lehigh Valley of PA by musical parents. He attended school in the Bethlehem Area School District, where he was encouraged to sing and play music by fabulous teachers. At Freedom High School, dave became the first "Pate" to be selected to the PMEA District 10 and Region V Chorus Festivals twice each, and as a member of the Freedom HS Patriot Band marched in the Tournament of Roses Parade and performed at both Disneyland and Walt Disney World in back-to-back school years.
As a music student in Philadelphia, dave performed all over the city, including The Academy of Music, with various choirs. More than a few times he ran across the street right after the final note to play piano at the Hershey Hotel Lobby Bar.
dave played in various bands in the Lehigh Valley and Pocono Mountains of PA before diving full-time into the music industry as a software product rep. Landing in New York City, he got back to performing – including a steady gig at The Baby Grand Piano Bar in Rockville Centre, LI. After a move back to the Poconos, he continued to perform before eventually moving to Florida. Life in the Sunshine State involves a lot of songwriting – and includes frequent trips to Nashville where dave was named to the Nashville Songwriters Association "Ones To Watch" list in February 2022.
dave attended his first Moravian Lovefeast at age 3 – very soon after that he joined the junior choir and became a "Morning Star" soloist (pictured above, opposite). dave sang in the Central Moravian Church Choir throughout high school, performed with the Moravian Music Foundation Festival Choir (picture below, opposite) and also was a member of the Bethlehem Area Trombone Choir – the oldest continuing music organization in the United States (est 1742). dave was a member of the Bach Choir of Bethlehem (PA), Bach Festival Society of Winter Park (FL), and served as a Board Member of the Moravian Music Foundation. In 2005, dave sang and played trombone on "Christmas Eve at Central Moravian Church," a collection of sacred Christmas music which remains a popular play during the holiday season.