You can probably live without reading it, but I'm not sure I can live without writing it. Thanks for taking a look!

01.15.21
The Price Of FAME
Is Less Than You Think
It's going to be a busy weekend. I'm grateful and blessed to live where live music is alive and well.
Tonight I'm playing at Zig Zag Scallop in Hernando Beach from 6-10pm. The last time I was there was quite a busy night, so if you're heading out I suggest you call them at (352) 556-4860 and make a reservation for the outside deck where I'll be playing.
Tomorrow night I'm "opening" for The Emojis once again at the 88Live Piano Bar. I play from 6-9pm, and they play until midnight. It's a fun night out, especially since you'll get to listen and dance to a LOT of songs way off the beaten trail of the overplayed live music top 100.
Sunday is going to be a BUSY day! First off, it's my monthly journey to Tampa to bring Trop Rock to Rick's On The River from 3-7pm. The food is great, the service is even better and the music won't suck. Hopefully 🙂
I'll be heading back to the 88Live Piano Bar on Sunday night for a very special event. Sax player extraordinaire Allan Cook played with MANY bands, including the butt-kicking original band Brake Fail. They're hosting a tribute for Allan, with all proceeds being donated to Allan's favorite charity – F.A.M.E. (Friends for the Advancement of Music Education). Click on the link to learn more about this incredibly important mission, and if you can donate – thank you.
The price of F.A.M.E. is less than you think.
01.14.21
Colossal News
My buddy (and radio boss) Doc has been cranking up Colossal Radio for over two years. Prior to that, he created one of the coolest "cable tv" music stations on the planet. Those are stories to re-tell another day, but if you know Doc, you already know he's a one-of-kind character who knows how to get "stuff" done with a smile on his face and a glass of rum in his hand.
Earlier today, Doc announced he will be teaming up with his cousin Dustin Rehrig and family to share space and combine forces in order to grow Colossal Radio to the next level. Dustin is a rock and roll veteran, and the founder of "Off The Charts Music School" in Palmerton. Family Rehrig (Dustin's wife Beth and daughter April are also onboard) has been busy creating a one-stop shop for teaching all aspects of the music industry craft, from a location that has the potential to rival any recording studio or soundstage located in one of those big bad cities a hundred or so miles away from Carbon County, PA. And the new home base on Delaware Avenue in downtown Palmerton is a location that can host live events and broadcasts that would never have been possible where the Colossal studio is now. Especially when you consider it's being built from the ground up with real people – no phantom corporate officers reaching down to pull the strings.
I have to admit, Palmerton has always had a special place in my heart. I absolutely loved living there back in the day. And the good news is that Doc and Dustin aren't the only people I know who are actively involved and currently committed to investing in Palmerton's future. It's a growing community that holds opportunity for many. WOO HOO!
01.13.21
Grab Your Credit Card
For the third year in a row, Don Middlebrook is hosting the Florida Panhandle Hurricane Relief Benefit at Lucy Buffett's Lulu's Restaurant in Destin, FL today and tomorrow.
After all the fun we had in 2020, thinking back to October 2018 seems like decades ago for most of us. But for those in the Florida Panhandle who survived Cat5 Hurricane Michael, the rebuilding continues over two years later. Don't forget that Michael's little sisters Laura and Sally left their impact there last summer as well. Although they might not have been as strong, for those still rebuilding they were strong enough.
Don has once again assembled an all-star lineup of performers that include veteran country music songwriter Darrell Clanton and Trop Rock breakout artist Joe Downing. Of course you never know what surprises may be in store or who might show up unannounced!
For those of you who can't be there in person, click HERE to go straight to the donation page.
01.12.21
Phlocking
Many moons ago, I got hired for a brand new steady gig at the second coolest bar in Tannersville, PA. The owner had just gotten back from vacationing in the Keys and wanted to create a destination for people he called "Parrot Heads" who apparently touristed from New York and New Jersey and needed a place to "go". I was completely unaware that we HAD Parrot Heads in the Poconos – vacationing, touristing, or otherwise – but I dutifully got busy learning Jimmy Buffett songs to accomodate the wishes of my brand new boss.
I was far from convincing, and the gig might have lasted part of one summer season. Looking back, I think it would have been more "believable" if I had instead put on a sombrero and blew into a trumpet on May 5th at Chi-Chi's, but hey – You Only Live Once.
Thirty years later, I am now one of those people – and I finally understand what I failed to comprehend so many years ago. Parrot Heads have never been the same socially awkward people who brought toilet paper to their local movie theater to watch the Rocky Horror Picture Show on weekends. Parrot Heads volunteer their time. They donate their resources. They support live music, not just people who play Jimmy Buffett songs. They know how to party AND save the world at the same time.
We are the people your parents warned you about.
01.11.21
You Can Get There From Here
I got to spend some time with Trop Rock legend Don Middlebrook yesterday. I missed his gig up the street at Gil Dawg on Saturday night, so the plan was to hear him perform down the street on Sunday afternoon instead. Unfortunately, the adverse, near-freezing temperatures yesterday in Tarpon Springs (mid 50s), caused his gig to be cancelled. Public safety is public safety, afterall.
As we were making fun of Floridians like the two northern boys we are (Don is a Michigander), the subject moved to Pennsylvania. Turns out Don has family living in Yardley – a place I spent a great deal of time as a child. My grandparents lived there (my Mom graduated from Pennsbury HS), and I was born across the river (another story for another day). I spent many an adventure with my grandfather up and down River Road, including Washington Crossing State Park and New Hope, places Don also knows well from hanging out there. Man, would it be fun to head north for a Delaware Valley "mini" Trop Rock tour!
The good news is that as Don's song says, "You Can Get There From Here".
01.10.21
Sub-Tropical State
I grew up in a place that fashions itself a "Christmas City". I moved north of there after high school and lived in the Pocono Mountains where snow and sub-freezing temps can start before and last after the months usually associated with winter. Heck, I even lived through Bloomberg's Blizzard – when 27″ of snow fell on NYC, snow kidding!
So I can understand why citizens from the north laugh out loud when people in Florida complain about how cold it is as soon as the temperatures fall terribly close to freezing (a/k/a 50 degrees). I'm here to report from the frozen tundra of Pasco County that our current sub-tropical state is a real-world problem.
Sure, I learned to ice skate at my town's outdoor skating rink when I was kid, but that was a LONG time ago in a land 900 miles north of here. When we want to ice skate in Florida, WE GO TO THE MALL. Not only do I "rent" my ice skates these days, here are a few other items I no longer own: gloves, a scarf, ski caps, boots, a winter jacket, a house with a fireplace or baseboard heat. During the summer, when I go to work at Tropicana Field I dress warmly because the air conditioning there is set to 72 degrees – which can be 25 degrees colder than the temperature outside. My "dress warmly work attire" includes sneakers, socks, pants, and what I call "layers" – y'all call this an undershirt/long sleeve shirt combo.
So when the temps drop below 60, we struggle. Temperature challenged, we have to "find" whatever items are accidently left over from before our Florida life started. Flipping the thermostat off of "auto/air conditioner" to "heat" for the first time means a few minutes of burning dust bunnies out of the air ducts. We actually have to MOVE the dials in our cars from the blue side to the red side – THE HORROR!
But when we get a stretch where it's in the 50s at sundown and dips into the 40s after dark… please, pray for us. Frozen orange juice is for you people, not US.
01.09.21
This Lizard LOVES The Chill
Once you've done the "Shoal Line Shuffle" – a/k/a hanging out in Hernando Beach, FL – it's tough to have as much fun anywhere else. The libations are lively, the (sea)food is to die for, the servers are super helpful, and the live music rarely (if ever) sucks. The only time it's NOT all that is when the temperature starts to fall, and tonight we're going to scrape the bottom of the 50s. BRRRRRRRRRRRRRRRRRRRRRRRRRRRRR.
Well fear not. Our buddy Louie (pictured at right) has solved the chill problem at The Lazy Lizard. Stop in tonight and you can stay warm in your shorts and tank tops, because the entire outdoor tiki bar has been completely "winterized". No, Louie didn't just go and buy all the plastic, string, and kerosene he could find. Louie actually figured out a way to keep the wind and cold out but STILL let you see across into the Weeki Wachee Preserve , and keep you warm while you watch the canaligators and turtles frolicking in the canal below the deck.
Join the fun tonight and leave your long sleeviness at home! Enjoy your favorite drinks, an amazing meal, be taken care of by the best servers around, and starting at 5pm you can listen to music that doesn't suck! Louie Louie, me gotta go!
01.08.21
Friday Night Fun In Bradenton
Tonight begins my every other Friday night at The 88Live Piano Bar in Bradenton. I can't say how lucky I am to have found this place, and grateful that they've made me a part of what's going to be a destination nightspot when we're all back to normal. All of the servers are amazing, in fact one of them (Grace) is a Poconos girl! It's like a 1980s night club, without the smoke or bad clothing/hair decisions, AND… piano music. If "dress to impress" is no longer a thing, the clientele at The 88Live didn't get the memo.
Hey, I like solo guitarists as much as anyone else, but The 88Live is the sanctuary for those that don't want to hear another dude/dudette looping "Mary Jane's Last Dance" or the Pink Floyd catalog – it may be 4:20 somewhere, but NOT at The 88Live. People come here to listen and dance. The Emojis played last Saturday and set the bar high for me to get everybody out on the huge dancefloor like they do. Don't bet against me.
01.07.21
Anda Rum Anda Rum Anda Rum…
Many many moons ago, my buddy Harpo and The Second Hand Band used to rehearse in an unused factory located on "The Bypass" in Lehighton, PA. I used to join in and jam with them, so thinking about those times in that space are always fond memories for me.
That old factory is now the home of Insurrection Distillery. Although music is still played there from time to time, the factory's primary use is to manufacture alcohol goodness: wine, beer, and now… RUM!
Today was the big announcement that our buddy Doc from Colossal Radio has been honored with his very own "Doc's Spiced Rum", distilled from 100% Virgin Island Molasses with natural spice. The bad news is the official release party date – because I can't go.
01.05.21
A Funny Thing Happened In Cocoa Beach
Once a month, Nolan's Irish Pub in Cocoa Beach hosts Writer's Night. Although it's on the "other" Florida coast – 160 miles away AND requires a journey across I-4ever – I try to go whenever I'm able to get a spot. This month, I opened the show. As I prepared to debut my new song "Beach Bar Piano", the one and only Mike Nash walked in the door.
Mike is Trop Rock Royalty. He has one of the best "voices" in the genre, writes great songs, not to mention he almost always performs barefoot. I knew he was a Nashville native, but what I found out last night was that his songwriting career began in Cocoa Beach as a newbie named "Nashville Mike" playing at the Nolan's Writer's Night many many moons ago. He's back "at the beach" this winter where he plans on writing and fishing for the next few months.
01.04.21
Rest In Peace, Allan Cook
I was saddened to hear over the weekend that we have lost Allan Cook. I don't remember exactly when we first met, but it was likely the late 80s or early 90s when he was playing around the Lehigh Valley in "Pizzazz". What's crazy is how often our paths have crossed. When I returned from the big bad city to the Poconos, Allan was there. When I started gigging around the Tampa Bay, Allan was there. In fact, I pretty much called him out as a stalker when we surprisingly found ourselves on two stages 900 miles apart over the course of ten days.
I will fondly remember Allan for always being on the cutting edge of music technology, an accolade not normally associated with a sax player. It was decades ago when I heard him play his sax into a harmony machine in order to sound like an entire Big Band saxophone section. He recently made fun of me for not going after the mailbox money YouTube was paying him. Allan was a wonderful human being at a time when the world needs more of them, not less.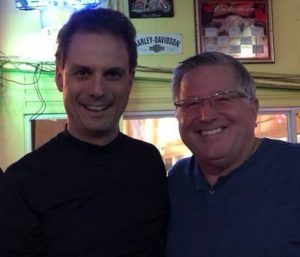 01.03.21
Key West
Today at Noon is the replay of our year-end episode of The Beach Bar Piano Show. Ten shows later I have to say this is one of the most fun projects I have ever worked on! It's not just an hour-long playlist. We've come to know the artists that have written and recorded these songs, and one my favorite interactions so far has been with Godiva and her song, "Key West".
It's the only Trop Rock song she's recorded, but it's easily one of our favorites written in 2020. It's one thing to write a great song, another thing to have the chops to sing a great song, but it's rare in our day and age to hear someone completely nail both of these on their first attempt. As we prepared for this week's show, Godiva told me she has a pop song being released next week called "Burn". It's not Trop Rock at ALL, and it sounds really good! It just makes you wonder how much higher this immensely talented songbird can fly in this crazy music business.
day2dave – the live blog of dave-LIVE Beach Bar Piano Music

01.02.21
Me And The Emojis
Tonight is the beginning of my once a week performances at The 88Live Piano Bar in Bradenton. Every other Saturday I'll be on from 6:00pm-9:00pm, and tonight I'm "opening" for The Emojis. I've heard a lot of good things about this piano/drum duo who get everyone dancing – tonight will be my first time hearing them and I'm pretty excited about it. Next week begins my every other Friday as the "closer" from 9:00pm – midnight.
01.01.21
Everything Is Coming Up Roses
January 1st is always a fun day for me: 38 years ago today, I marched in the Tournament Of Roses Parade in Pasadena, CA along with about 200 of my pals from the Freedom High School Patriot Band. Don't worry, I'm not about to tell you about band camp.
This five-mile parade is challenging enough, and us kids from Pennsylvania wore WOOL uniforms just to make it interesting. In my case, I was just a couple of days off of crutches after breaking my ankle playing basketball. The first thing I did as we marched into the television camera "box" was to step in horse poop – so I had the added fear of embarassing my hometown with every step I took. Freeman never went down. Always celebrate the victories!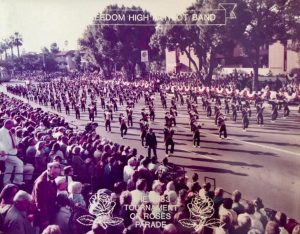 day2dave – the live blog of dave-LIVE Beach Bar Piano Music