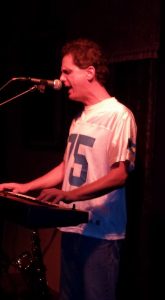 dave-LIVE is…
...an entertaining live music experience!

Singing and playing your favorite keyboard-oriented
tunes from the 50's through today, as well as uniquely
memorable arrangements of tunes usually heard by solo
act strummers. Whether the crowd is dancing, listening,
or singing along: everyone is involved in the show.
a little background…
dave was born in New Jersey and raised in the Lehigh Valley of PA. He attended school in the Bethlehem Area School District, where he was encouraged to sing and play music by fabulous teachers. dave was selected for the PMEA District 10 and Region V Chorus Festivals twice each, and as a member of the Freedom HS Patriot Band marched in the Tournament of Roses Parade, and performed at both Disneyland and Walt Disney World in back-to-back school years.
dave attended his first Moravian Lovefeast at age 3 – very soon after that he joined the choir (pictured opposite).